Shaw Brothers History
Shaw Brothers History / Shaw Brothers Buying Guide / Shaw Brothers DVD Release Schedule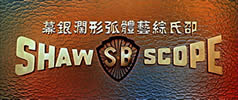 Shaw Brothers Introduction:
Ok. So you've got a passing interest in martial arts cinema. You've got a couple of Bruce Lee DVDs and you've just discovered Jackie Chan's 1980's work. It's all going quite well, in a few months you will be tucking into Jet Li's Fist of Legend and probably some of Sammo's finest works (Warriors Two, The Victim).
However, one thing keeps nagging away at you. Who or what are the Shaw Brothers? You keep hearing people ramble on about them on various online forums and their logos seem to be all over the place (including Tarantino's Kill Bill).
Well, if this is a question burning inside you, then you have come to the right place. Here at Hong Kong Cinema, we have tried to pull together an insightful and informative guide into the world of the Shaw Brothers for both the uninitiated disciple and those looking to extend their basic knowledge.
It is fair to say that the Shaw Brothers have been the most significant film production company in the history of Hong Kong Cinema, with an influence extending far into international cinema. Over the last nine decades, the Shaw's have amassed a collection of over 800 titles, with countless awards and international recognition.
They gave openings to some of Hong Kong's best loved stars (Jimmy Wang Yu, Lo Lieh, Ti Lung, David Chiang, Gordon Liu, Alexander Fu Sheng and Cheng Pei Pei), but also those behind the camera (Chang Cheh, Lau Kar Leung, John Woo and Chor Yuen). Not only were they breaking box office records both domestically and abroad, but they also defined a number of genres that are now considered the very essence of Hong Kong cinema.
The History of the Shaw Brothers
Ningbo, 1900s, Shaw family portrait (left to right) Runde SHAW, RunFun SHAW,
RunRun SHAW, Wang Shun Xiang, Runme SHAW, Runje SHAW,
SHAW Vee Ngok (front seated) (Image Property of Shaw Organisation)
The Early Years:
The Shaw Organisation began in 1924, with operations in Singapore screening their own brand of silent movies. Frustrated by local distributors, they set up their own cinema, "The Empire", to screen their movies. Led by brothers Run Run and Runme Shaw, they began to branch out into Malaysia building new cinemas and operating a mobile cinema for rural areas. However, it was only with the advent of sound that movies began to really launch themselves – by 1933 the Shaw's had produced the Cantonese opera film 'Normal Dragon' which proved a breakthrough for them in both Singapore and Hong Kong.
In the following years, the Great Depression led to a decline in cinema attendance. The Shaw's began to produce films locally to minimise costs and also diversified into themes parks and other live attractions. By 1939, the Shaw's had amassed an empire of 139 cinemas across South East Asia. However, by the time of the War, these Japanese invaded Singapore and seized most Shaw assets. They were then forced to use their cinema to display pro-Japanese propaganda movies throughout the occupation. Following the War, the Shaw's regrouped and their operations once again expanded into more cinemas and increased film production.
The Years of Dominance:
By the early sixties, the Shaw Empire incorporated 35 companies, owned 130 cinemas, 9 amusement parks and 3 production studios. It was during this period that the Shaw began to dominate the box office and set new standards in film-making. However, it also marked the end of their relationship with Malaysia as their studio, Jalan Ampas, closed in 1967 after 160 films due to declining attendances and striking.
In 1957, Sir Run Run Shaw came to Hong Kong from Singapore and founded the new company, Shaw Brothers (Hong Kong) Ltd. It was following the opening of their Hong Kong studio, Clearwater Bay, in 1961 that the Shaw Studios grew to prominence. With over 850,000 sq ft of land and 1500 permanent staff, it was soon producing over 40 films per year (1966). This vast production line boasted a new film starting every nine days. Another defining feature was that all films were completed without sound, which was dubbed into various languages in one of the twelve sound studios on site. This allowed them to rapidly prepare each movie for the international market with consistent levels of production values.

Pictures from King Hu's Come Drink with Me and Chang Cheh's One Armed Swordsman
The first real breakthrough was 'The Kingdom and the Beauty' (1958), which enjoyed global success and broke all domestic returns. Four years later the 'Magnificent Concubine' won Grand Prix at the Cannes Film Festival. Director Li Han Hsiang went onto to have further international success with Empress Wu and Love Eterne in 1963. Other notable entries include King Hu's 'Come Drink With Me' (1966), which ushered in the new era of wuxia-pian movies.
The legendary Chang Cheh was hot on his heels with the 1967 blockbuster 'The One Armed Swordsman'. This Jimmy Wang Yu revenge yarn was the first movie to break HK $1m at the box office. Not satisfied with this success, Chang Cheh went onto to deliver hit after hit and forming a crucial role in shaping the kung fu genre. Many believe Cheh's 1970 work 'Vengeance' marks the first genuine kung fu movie, it also importantly brought him together with Ti Lung and David Chiang (the 'Iron Triangle' as they became known). By the end of the 70's he had countless successes to his name and had formed the international cult heroes 'The Five Venoms'.
Among those who worked alongside director Chang Cheh were martial arts choreographer Lau Kar Leung and John Woo. Lau Kar Leung became a hugely successful director in his own right, moving away from Cheh's blend of macho cinema and bloodshed for more respectful martial arts and also some early attempts at kung fu comedy (such as 1975's Spiritual Boxer). There is no doubt that John Woo was heavily influenced by Cheh's heroic themes as he left the Shaw Studios and made it big with his own brand of action in the 1980's.

Pictures from Chang Cheh's Boxer from Shantung (Chen Kuan Tai) and Chor Yuen's Death Duel (Derek Yee)
Other notable contributions include Cheng Chang Ho's The Five Fingers of Death (King Boxer), starring Lo Lieh. This action packed yarn actually out grossed Bruce Lee in the US during the height of the kung fu boom. Chor Yuen continued Kung Hu's focus on wuxia-pian with the likes of Killer Clans and The Magic Blade. Whilst Chang Cheh reveled in blood and guts, Chor Yuen focused on aesthetics and grace, proving equally successful in the early seventies.
The Shaw Brothers continued to diversify in this period with the launch of their own TV station in 1973, TVB. They also began co-productions with international houses as well – the best examples being The Legend of the Seven Golden Vampires and Blade Runner. By the mid seventies, their empire had now expanded to 230 cinemas, with another 600 cinemas on a distribution deal. Each week over 1.5 million people saw a Shaw produced movie!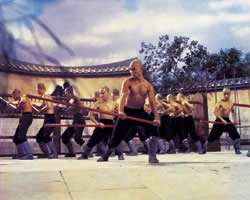 Pictures from Lau Kar Leung's Executioners from Shaolin (Lo Lieh) and 36th Chamber of Shaolin (Gordon Liu)
The Beginning of the End:
Stars at the Shaw Studios were normally contracted on 3, 5 or 8 years basis and would work 6 day weeks to keep within the schedules. As the success of Shaw's brought more money into Hong Kong cinema, they actually became the victims of their own success as stars looked to more relaxed studios who also offered more competitive packages, such as ex-Shaw Raymond Chow's Golden Harvest. As a result of this and increasing issues surrounding piracy, the Shaw Studios in Hong Kong ceased operation in 1983 as a film-maker to focus on TV production.
This marked a twelve year gap before they re-entered the movie business with Stephen Chow in "Out of the Dark" in 1995. A few more films have emerged since, including Hero (1997) starring Yuen Biao and Takeshi Kaneshiro and 2002's Drunken Monkey, but nothing near the output of the previous decades.
The Shaw Brothers remained hugely protective of their back-catalogue and it was only in 2000 that they agreed to sell the entire 800 strong Shaw Brothers library to Celestial for HK $600m (US$ 85m) to the Malaysian company Celestial Pictures. Over a three year period the entire catalogue was remastered and restored with the latest technology.

Example of the impact of Celestial's remastering work on the original source print from the 1970's
Since this time, Shaw Brothers continues to expand its infrastructure with state of the art multiplexes and also a number of philanthropic ventures through the Shaw Foundation. The new millennium also brings a new era to Shaw Brothers. Shaw Studios are claiming to be developing the world's most advanced film production and digital post production facility on a hillside site in Tseung Kwan O, Hong Kong. The US $180million Shaw Studios features one of the largest, fully air-conditioned and sound and vibration-insulated soundstages in Asia, a full-service colour lab and digital imaging facility, over 20 sound and editing suites, a 400-seat dubbing and screening theatre, executive and production office space, banqueting facilities, and visual effects and animation capabilities. In all, over a million square feet of digitally-wired and secure facilities dedicated solely to film production and post-production. Expected to be completed by 2009.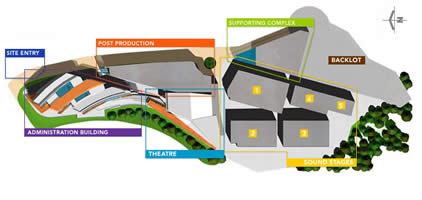 Overview of the new Shaw Studio in Tseung Kwan O, Hong Kong
Due to the recent financial crisis, Run Run Shaw announced that he was to delist Shaw Brothers Ltd in Dec 2008 and buy out the minority shareholders.
Other HKCinema Resources:
Shaw Brothers Buying Guide / Shaw Brothers DVD Release Schedule
Further Reading:
Shaw Online – In depth article tracking the entire Shaw Brothers story
http://www.shaw.sg/sw_about.aspx
Shaw Brothers – Wikipedia Page
http://en.wikipedia.org/wiki/Shaw_Brothers_Studio
Celestial Pictures – Shaw Brothers History
http://www.celestialpictures.com/level2_story.cfm
Shaw Brothers Documentary - Fist of Fire (from the BBC in 1975)
Part 1: http://uk.youtube.com/watch?v=6UE24UnCmHA
Part 2: http://uk.youtube.com/watch?v=uxW3u5ORPx8